The Best Leica Laser Scanners for Your Construction Business
July 17, 2020
0 Comment(s)
Leica Laser Scanners technology has become a staple around the globe, arguably almost all industries benefit from this technology, and even if you haven't encountered it in real life, you must have seen it in the movies beginning the 20th century.
Leica 3D Laser technology dates back to the 1960s, where the scanners developed during this period were characteristic of projectors, lights, and cameras to perform their designated tasks accurately.
Enter the 1990's, and the use of advanced laser scanners in the construction industry gains much more traction than anticipated. Therefore, laser scanners are used to collect high dynamic range and image data to help improve efficiency and productivity.
In a world where transparency rules, space where you need the best technological innovations to ensure that things run efficiently and effectively at all times, you need the best technical elements to get things running. Whether you are in construction or the oil drilling business, necessary technologies will give you an upper hand in your industry.
In this case, you need the best Leica devices for the best performance in your construction business, specifically, Leica Laser Scanners. So, what exactly are these technologies, and how do they work?
What is GNSS, and how does it work?
GNSS or Global Navigation Satellite System refers to satellites' constellation to provide specific signals from space for the transmission of positioning and timing data directly to GNSS receivers. These receivers will then make use of the data collected for location determination.
Thanks to the design of GNSS, they offer global coverage, hence more accurate and a high level of performance.
GNSS follows four main criteria – accuracy, integrity, continuity, and availability for the assessment of the GNSS performance.
In terms of accuracy, GNSS's performance is the difference between a receiver's real position and the measured performance, time, or speed.
Integrity – this means that the GNSS system can offer a threshold of confidence, which means that an alarm would be raised in the event of an anomaly in data positioning.
Continuity – The GNSS system is capable of working fully without any interruptions.
Availability – this refers to GNSS's percentage of time within which the signals received by GNSS receivers can fulfill results above the level of accuracy, continuity criteria, and the integrity of the data.
The European GNSS or E-GNSS features the use of satellite signals from the Galileo constellation, as well as augmentation services, all offered by EGNOS. Then you have the European GNSS agency of GSA responsible for the management of the European GNSS.
These happen through the use of the GNSS Service Centre or GSC, which offers support for the provision of a single interface for all Galileo users.
It's also worth noting that GSA contracted the operations of EGNOS and its service providers to ESSP (European Satellite Services Provider), hence enabling a single interface for all EGNOS users through the use of EGNOS user web support.
So, how does GNSS Work?
While GNSS satellites vary in design and age, their overall principle of operation remains the same. These satellites work by transmitting two carrier waves on their L-Band, L1 and L2. These carrier waves work by transmitting information to the earth from the satellites.
Most of the GNSS receivers feature an antenna and a processing unit. The antenna's work is to receive satellite signals, and the processing unit processes and makes sense of the signs received. But for an accurate determination of the receiver's position, GNSS calls for the use of at least three satellites to ensure the accuracy of the information collected.
To make all these possible, GNSS's satellite orbits Earth every 11 hours, 58 minutes, and 2 seconds at its medium-orbit altitude. Each of the satellites transmits coded signals containing the details of the satellite's actual position and orbit details, as well as a stable time stamp collected from the atomic clock.
Then you have the time information broadcast, which runs as codes by the satellite. These codes transmitted by the satellites allow the receiver to determine the actual time for the broadcast signals continuously. These signals collected contain data used by the receiver to compute the precise location of the satellites while adjusting the satellites for accurate positioning.
Next, the receiver uses the time difference from the satellite signals reception and the specific broadcast time for the computation of range or distance from the receivers to the satellite.
Once the receiver has the satellite's precise position concerning the other satellites, it will translate its position into the Earth-based coordinates system, hence the latitude, longitude, and height positioning.
So, what makes GNSS very accurate/ precise?
The GNSS receivers precisely determine satellite and location positioning based on four factors mentioned above – longitude, latitude, height, clock error, or any other navigational solution from the receiver based on the computation of the distance from the satellites.
Signal transmission is made possible by accurate atomic clocks in the satellites. As a result, these receivers calculate the total time it takes for the information collected from the satellite in question to reach the GNSS receivers.
For position determination, the GNSS receivers must be in the line of sight between the four satellites and the receiver's antennas. And by using more receivers will be easy for you to improve the receiver's position solution.
The only catch is that very few receivers can make use of the extra satellites. But by synchronizing the local clocks with the system's very accurate atomic clocks on their satellites, GNSS delivers more precise time and location details.
With high time precision, GNSS systems are ideal for use in cellular systems, financial networks, and the synchronization of the power grids.
Is GNSS better than GPS?
GNSS, which represents a term encompassing all the global satellite positioning systems, works a little differently. Still, importantly, it's worthwhile to mention the fact that GPS is a component of GNSS.
To be specific, GPS refers to the NAVSTAR Global Positioning System, representing the constellation of satellites developed by the US DOD (Department of Defence). Though initially designed for use by the military, GPS was later accessible to civilians for continuous global positioning and global timing information under all weather conditions.
In short, GPS and GNSS work together or collaborate for the global location positioning needed anywhere on earth.
However, the main difference between these systems is that while GNSS is a GNSS-compatible device using navigational satellites from all other systems beyond GPS, hence the highest level of accuracy plus reliability, not all GPS receivers are GNSS-compatible. As a result, the level of accuracy for GPS might be imperfect at other times.
That said, GPS and GNSS have the following in common. They both have space/ satellite segments, a ground segment for ground control stations, and a user segment for GNSS and GPS receivers, not to mention the exact location of the satellites at any time in question.
The satellites will send radio signals towards the earth. These signals will be picked by GPS and GNSS receivers; then, you have ground control stations for monitoring GNSS and tracking satellites, updating satellite positioning with ease.
How do Leica 3D Laser Scanners work?
3D laser scanners and, subsequently, laser scanning technology refer to the non-contact and non-destructive technology designed to digitally capture the shape of the physical questions using laser lights.
Leica 3D Laser will then create point clouds as data from surface objects. 3D scanning allows for capturing physical objects in their exact sizes/ shapes as digital 3D representation systems.
The Leica 3D laser scanning process follows these steps:
Data acquisition through Leica 3D laser scanning. In this case, the object to be scanned is placed on the digitizer's bed. This is made possible by specialized software that will drive laser probes above the object's surface. The laser probe will then project the line of laser light on the digitizer's surface, where two sensor cameras continuously record the changing shape and distance of the laser lines running in 3D.
Resultant Data. Next, up, the object's shape appearing as millions of points or point clouds on your computer monitor while the laser runs around to capture the object's shape. This is a superfast process that gathers up to 750,000 PPS.
Modeling Choice, depending on the available applications. The collected cloud data files are then registered and merged into a 3D representation of the object and the post-professed image using specific applications.
Inspection of Point Cloud data. The scanned data is here compared to the CAD nominal data from the designer, and the result of this process is delivered as color map deviation reports in a PDF format.
CAD modeling for Reverse Engineering. As the fastest way of creating the most accurate and very automated 3D digital data through reverse engineering, you need to use specialized software. The point cloud data is important here as it allows for the creation of of3D CAD models as part of the model's geometry. The CAD models allow for precise reproductions of scanned images, and CAD models are also used to correct imperfections.
Laser design further allows for the provision of surface models or solid models for the best results needed.
In construction, Leica 3D laser scanning and Leica Total Stations are important for developing accurate designs through simultaneous models in the building phase.
Best Leica GNSS and Leica Laser Scanners in 2020
1. Leica Viva GS14 (

$

8,999.00) – Best GNSS Smart Antenna
Dubbed the GNSS Smart Antenna, the Leica Viva GS14 is one of the most reliable professional, smart antennas for GNSS, and you might like it if you are looking for a device that delivers the highest, most demanding level of accuracy.
Thanks to the very intuitive Leica SmartWorx Viva software, it's easy to use, which allows for the delivery of practical menu structures, clear graphics, simplified workflows, and easily understandable terminologies.
Thanks to the software setup, you get to save a significant amount of time and effort. On top of that, you have the Leica Infinity software, which complements the functions of SmartWorx Viva by processing all the information collected and sent to your office. It allows for the smoothest data transfers that help in keeping your projects on track.
The two software applications work in tandem, joining previous survey data, hence faster and more efficient project editing. All these, and you also get to enjoy access to the best Active customer care.
It's tough: build for rugged and harsh environments, it boasts a high degree of data accuracy, and it's flexible to work with.
The Leica Viva GS14 is a considerably compact unit configured for varied measuring tasks, and the unit comes complete with integrated mobile communications and a UHF modem. It is also user-friendly with an integrated smart antenna to suffice the most demanding accuracy; there are no restrictions in using the Viva GS14, meaning that you can use it in any environment.
The Leica Viva GS14 has also been equipped with IP68 protection against dust. It can also withstand extreme temperatures of 40°C in addition to the +65°C integrated GSM internal technology to protect the antenna from breaking or from getting lost.
Pros
Provides clear graphics and practical menu structures

Saves time and effort when working on any site
Cons
Price is on the higher side
2. Leica GS18 T – Fastest GNSS RTK Rover (

$

14,900.00)
Regarded as the world's fastest GNSS RTK rover, Leica GS18 T offers a remarkable level of performance. It's ideal for use with projects that call for high-speed onsite results/ data.
One of the things that stands out from this rover is its magnetic disturbance resistance and the calibration-free operation, which means that the use of the rover needs no leveling. This design makes it easy to use, and you get to make points quicker without having to hold poles vertically.
By making use of the latest innovative techniques and technologies, this rover combines IMUs (Inertial Measurement Units) and GNSS to establish a true tilt compensation solution that's not only immune to all magnetic disturbances but also calibration-free.
Also, you get accurate positioning results when working close to metallic objects, something that couldn't be done before.
Leica gs18t is a one-of-kind GNSS RTK rover and has raised the bar relatively high for its competitors simply because it does not depend on the magnetometer to rectify the pole tilt for each measurement.
The unit has additionally incorporated a self-learning GNSS smart antenna known to offer high-class performance. Also, the adaptive measurement engine with the RTK plus provides measurement engineers in the construction sites and achieves the best position, as it automatically selects the optimal signal combination.
Pros
The incorporated Leica captive software offers a powerfully immersive experience.
Data transfer is smooth, thus keeps the project on track
Cons
Require high initial investment
3. Leica Zeno 20 – Best GIS Collector (

$

4,484.00)
This surveying equipment is more than a GPS – it is a masterpiece fusion of smart technologies, a high-performance GIS collector that delivers accurate, simple, and best-rugged asset management.
It's one of the best investments for GIS field personnel as it simplifies data collection by using cutting-edge technologies. Most importantly, this GIS data collector has overcome the biggest GIS challenges around data reliability and accurate device positioning in impossible areas.
It makes that possible with the use of two specific technologies Apogeetec and Gamtec. Apogeetec is designed to cover dense/ covered/ closed areas with maximum performance/ accuracy. At the same time, Gamtec works to increase the safety of works and results in dangerous and hard-to-reach areas – a simple aim-and-collect system.
Leica Zeno 20 integrates with mobile data capturing solutions fin combination with ZeroCollector, thanks to the integration of ArcGIS easily interfaced with your organization's systems.
If you have been looking for simplicity, productivity, and accuracy, Leica Zeno 20 is the best data capture device for GIS field personnel. And while in the field, you can worry less about the impact of your worksite as the unit has incorporated durable IP67 dust and waterproof rating.
Additionally, if you can download the android application, it will help stream the RTK corrected GNSS positions giving you the liberty to work from anywhere.
Pros
Offers excellent accuracy thanks to the professional-grade GNSS coordination

Saves time
Cons
Requires training before use
4. Leica Zeno GG04 (

$

4,900.00) – High Accuracy Design with Smart Device Integrations 
This is a smart antenna developed to increase the level of confidence around data accuracy for all geospatial information. The modern version of this antenna pairs with all of the existing Zeno handheld devices.
Using RTK technology while applying PPP (Precise Point Positioning), it's capable of collecting high-accuracy data in real-time.
It's IP68-rated for durability, hence its use in some of the most demanding and hardy areas, with zero need for the mobile data connection. It's lightweight and compact.
It also offers enhanced data tracking performance thanks to the 555-channel support with an increasing number of satellites, future-proof GNSS developments, and the use of state-of-the-art technologies. Its performance is enhanced by its smart device independence and extensive software support.
The benefit of using the Leica Zeno gg04 is that it offers users an industry-leading 555 channel tracking power through portable devices such as mobile phones. It is even better than it is compatible with the variations of android, windows, and intelligent apple devices.
When used in the construction industry, the rugged, easy-to-use, and flexible antenna has been equipped with the RTK technology, thus applying the precise pointing positioning. 
The above encourages accurate data collection in real-time, and mind you, and you don't need mobile data to access this service even if your collection is demanding.
Pros
It can be used with a Bluetooth connection

Works with your current tablet or smartphone
Cons
Requires high-end hardware for data processing
5. Leica BLK360 (

$

7,999.00) – Smallest, Lightest Laser Imaging Scanner
The Leica BLK360 is the smallest, lightweight imaging laser scanner around. It could be an excellent imaging laser scanner for your construction business if you need something nifty but ultra-powerful.
It allows for scanning standard, high, and fast-resolution, with a full-dome scan in the standard resolution taking 3 minutes. It also boasts 150MP generation for spherical images.
This laser scanner takes the best full-color panoramic images that are overlaid on high-accuracy point clouds. They are easy to use, operable on your iPad, and enhance automation workflows while streamlining the entire capture process. You don't have to be a survey professional to use this scanner.
The Leica blk360 is one of the simplest Leica Laser Scanners to use; given that it is operated with the push of a button, the unit's effectiveness comes in action with its ability to capture full-color panoramic images that have been overlaid on a high accuracy point cloud.
The unit has also been configured to allow users to spend less time processing data, thus dedicate their time to creating meaningful deliverables thanks to the incorporated simple export process of the LGS and RCP files.
Pros
Offers high dynamic range and thermal imaging

Allows users to scan in high standards and fast resolutions
Cons
Might need new software purchase or update
6. Leica RTC360 (

$

58,000.00) – Best for Fast 3D Reality Capturing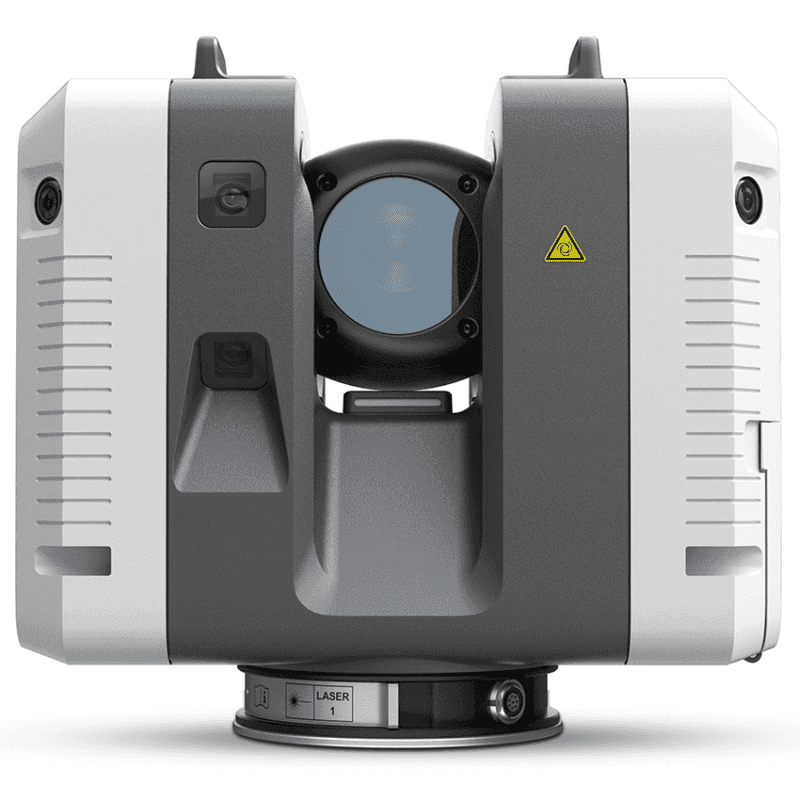 RTC360 Leica 3D Laser will automatically pre-register your point-to-cloud data out in the field, allowing you to run a quality control check fast, hence higher productivity and smart decisions on site.
It's highly portable, very much automated, intuitive, and overall a 3D scanner designed for productivity and high-level performance.  It captures high-dynamic-range/ HDR images in under two minutes. It's also agile, precise, fast, and allows for easy data capture augmentation for a fine reflection of the reality on site.
The construction environment is pretty dynamic because of the many activities and processes that are undertaken. But by utilizing the relevant hardware, you will be able to get things done fast and accurately; one such hardware is the Leica rtc360, which is simple to use but accurate.
If you, therefore, have complex projects that you need to manage without blotting your finances, then the rtc360 laser scanner is your professional solution.
Pros
The laser scanner will enrich the high dynamic range imagery in not more than two minutes.

The devices need little manual assistance and will automatically record your moves from station to station.
Cons
Has issues with stability
7. Leica ScanStation P40 – Best High-Speed HD 3D Scanner
This high-definition Leica 3D laser scanning device runs on the best integrated 3D laser solutions to offer unimaginable scanning speeds, with high accuracy and the capacity to handle the most demanding scanning projects.
It's ideal for use in civil infrastructures and large industry complex representations and the generation of 3D data for easy integration into BIM (Building Information Modelling). This Leica 3D Laser scanner boasts one of the fastest scan rates for HDR imaging at 1million points/ second, up to 270m.
It further boasts a high level of angular accuracy and unsurpassed range paired with the survey-grade and low-range noise dual-axis compensation form for foundations, with the most realistic level of clarity.
The angle with which the Leica scan station P40 approaches the dynamics of laser scanning in the construction industry gives it a better competitive edge. For one, it creates an as-built representation of a large industry complex and can generate 3D data that can be integrated into building information modeling (BIM).
Leica scanstation P40 is a high-performance unit known to reduce downtime while offering the best performance under tough environmental conditions. The scanning solutions provided by this unit are comprehensive; you will, therefore, get the hardware, software, training, and support, and services.
Pros
The scan station P30/P40 delivers low range noise

Users will get highly detailed 3D color points
Cons
The instrument is not easy to use
8. Leica ScanStation C10 (

$

10,999.00) – All-in-one Laser Scanning Solution
The Leica ScanStation C10 is an all-in-one laser scanner that can be used in just about any application. It's regarded as the new scanning standard for all the pulsed scanners on the market as it is compact and easy to use.
This ScanStation C10 features the scanner, data storage, controller, battery, and video camera. It also boasts some big advancements in productivity and versatility, not to mention the best High-Definition Surveying (HDS).
All these are made possible by the scanner's entire field of view, excellent range, a high degree of accuracy, and traverse, as well as its surveyor-friendliness.
The Leica scanstation c10 features a long-range scanner meaning that it will be effective even when located at a far, safe distance. The portable unit has incorporated a battery, an auto-adjusting video camera, a data storage option, a controller, and a laser plummet in one portable unit.
Other advancements meant to enhance the productivity of the scanner are such as smart-x-mirror, which allows the conduct of full-dome scans via the spinning mirror.
Pros
The laser scan station is versatile

The. unit is compact, highly accurate, and portable
Cons
Price is on the higher side
9. Leica ScanStation P50 (

$

35,000.00) – Long-Range Terrestrial Laser Scanner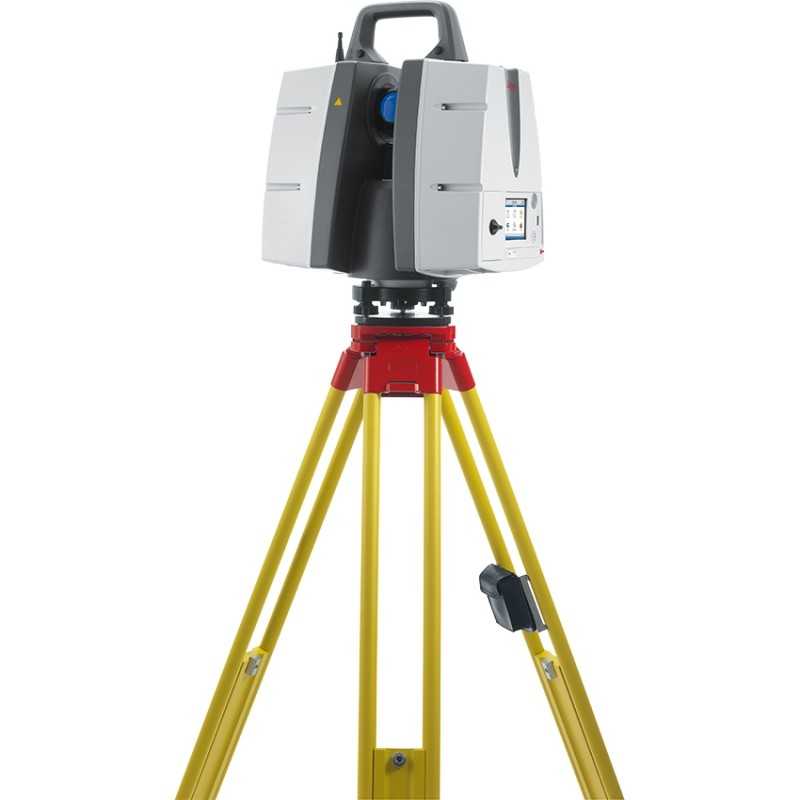 The ScanStation P50 is an excellent addition to the range of long-range ScanStations on the market, and this one is specifically designed for use in terrestrial laser scanning.
It offers to enhance your team's productivity by making it possible to quickly scan previously inaccessible places from a safe position while on-site, hence a reduction of time spent on the field and less setup time. It's ideal for use in industrial settings
it's fast, ideal for use in tough conditions and temperature extremes (-20°C and highs of + 50°C) thanks to its IP54 rating (dust and water resistance).
It's a complete scanning device/ solution with integrations for a leading survey and design software for the best performance.
Professionals in the construction business can now slow down their search for a laser scanner to penetrate the hard-to-reach areas. The P50 scanner has been configured to increase productivity if used to scan from a safe position on site. You can, therefore, expect to use less time in the field but with high performance.
The unit, just like the other Leica systems, performs exceptionally well even under tough environmental conditions; users also don't have to worry about the effects of dust and water thanks to the IP54 resistance rating.
Pros
Provides high-quality HDR imaging and 3D data

Features a low range noise
Cons
Requires training before usage
10. Leica GS16 (

$

8,800.00) – GNSS Self-Learning Smart Antenna
Leica GS16 is a high-accuracy, self-learning, add reliable smart GNSS antenna. It works with RTK technology, meets the highest measurement standards for RTKPlus, and SmartLink, features that make this one of the smartest scanners in the GNSS ecosystem.
The design of the antennas means that more satellite signals are captured, as RTKPlus adapts intelligently to changing conditions, hence the delivery of very accurate positioning specifics.
This antenna work with Leica's Captivate software to turn complex collected data into very realistic and easily workable 3D models. And by working with the Leica Infinity software, data processing speeds are enhanced, as you get to enjoy infinite possibilities.
The Advanced Leica gs16 offers real-time operations that allow coordination from the site to the office thanks to the captivate that captures and organizes data in the field and the infinity software that ensures smooth and real-time transmission of information.
Additionally, the Leica software turns complex data into a realistic and workable 3D model; using this unit is pretty easy. It has incorporated a familiar touch technology, meaning that all the collected data can be viewed from different dimensions.
Pros
The send and receive data service discourages costly construction site visits

Offers uninterrupted, accurate positioning
Cons
Conclusion
Leica Laser Scanners run on the most reliable, sophisticated, and engaging software that allows for the delivery of accurate geospatial results. If you are in the construction business, especially when working on projects in remote areas or large projects, investing in the GNSS smart antennas and scanners would be a great investment.
Even as a surveyor, in this Coronavirus Pandemic, you need these devices. The antennas and scanners above are some of the best for you to try.